THE TEAM
Electropioneer is a robotics team that accommodates students, it doesn't matter if you study programming, law or agriculture, you are all welcome. Our workshop is currently in the vocational technical high school of electrical engineering (ETS) "Mihajlo Pupin" in Novi Sad, Serbia. The idea behind the team is to allow the students to learn something outside of the classroom, and to allow them to apply their knowledge gained in school through the realization of a robot. The competition is held annually, and Electropioneer has a twelve-year history of participating in the event. The team operates as an after school activity for current students, so the members differentiate each year. Currently it counts around fifteen high school members, eight college members, and four mentors. The team's mentors and coordinators, currently study mechatronics and mechanics at the Faculty of Technical Sciences in Novi Sad and also head a non profit organization SENSA.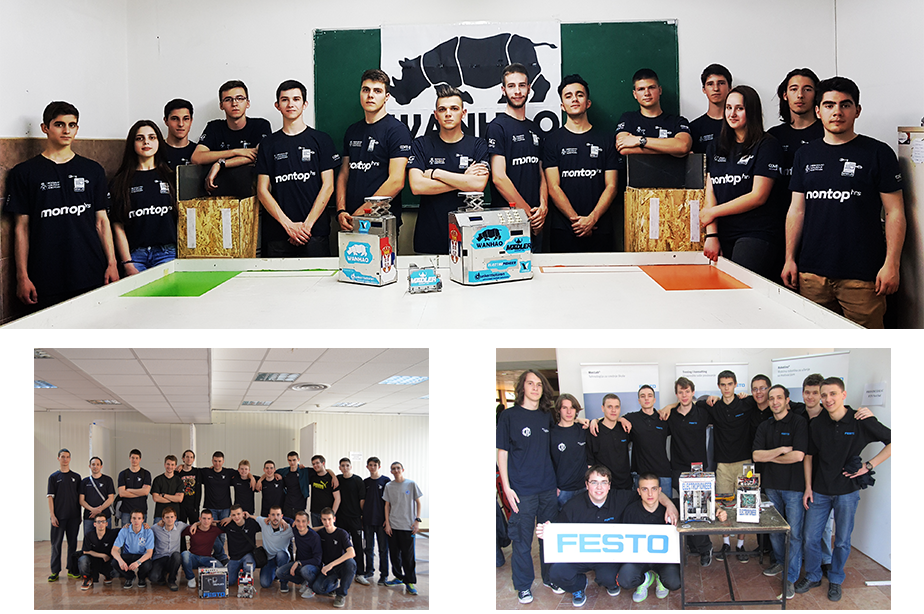 ACTIVITY AND TEAM DYNAMICS
Each year, the team gathers as soon as the information about the upcoming competition is revealed (usually September). After familiarizing with the rules, the team members present their ideas and discuss different solutions. Once a single concept is agreed on, the team coordinator helps the students split in groups that will work on separate assignments, and the manufacturing begins!

There are three main areas to work on: programming, electronics, and mechanics. The students choose freely in what areas they will work, but they are strongly encouraged to be involved in all segments.

Programming is done in the C programming language, and it refers to programming of microcontrollers and peripherals. In the area of electronics, students design the printed circuit boards, make a selection of the appropriate components, and they implement and test it all together at the end. The mechanics consists of robot design, production of parts, and final assembly with tweaks.


Check our robot's performance in Eurobot 2013 when it was 2nd place in Serbia and 15th place in France.
— EUROBOT 2013
History of the team
2002
Electropioneer was established in 2002 as an extracurricular activity open for all interested students.
2003
3rd place in Serbia and 20th place in France
2005
3rd place in Serbia and 15th place in Switzerland
2006
2nd place in Serbia and 8th place in Italy
2009
3rd place in Serbia and 24th place in France
2011
1st place in Serbia and 16th place in Russia
2012
2nd place in Serbia and 5th place in France
2013
2nd place in Serbia and 15th place in France
2014
1st place in Serbia and 24th place in Germany
FUNDING
Throughout the previous years, Electropioneer relied on school, city, and government funds to cover the material, equipment, manufacturing, maintenance, and travel costs for the team. With some appealing stories in the local media following the team's performance in the last couple years, the team's coordinator managed to find some financial support from the "Rotary club Novi Sad-Danube" in 2014.